ArriveCan glitches spark call for review, elimination in Windsor
Breadcrumb Trail links
Local News
Business
Publishing date:
Jul 28, 2022 • July 28, 2022 • 4 minutes read • 7 comments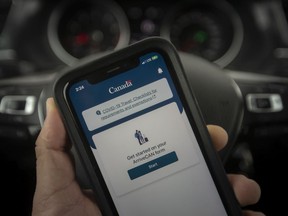 The ArriveCAN app, still required when entering Canada, is pictured on Friday, March 25, 2022. Photo by Dax Melmer /Windsor Star
Article content
Glitches, erroneous quarantine warnings and plenty of people who just don't know how to use the app: While the COVID-19 pandemic is ongoing, residents and officials alike in Windsor are calling for big changes to the ArriveCan app.
Advertisement 2
This advertisement has not been loaded yet, but your article continues below.
Article content
Windsorite Jeremy McLellan has twice crossed the border recently. While both he and his wife are vaccinated, his four-year-old twin daughters were not eligible at the time — which is what he believed sparked a cascade of emails ordering his family to quarantine, even though they were exempt from doing so.
By clicking on the sign up button you consent to receive the above newsletter from Postmedia Network Inc. You may unsubscribe any time by clicking on the unsubscribe link at the bottom of our emails. Postmedia Network Inc | 365 Bloor Street East, Toronto, Ontario, M4W 3L4 | 416-383-2300
Thanks for signing up!
Article content
"I do worry a little bit because we live in a border city," McLellan said. "We should be able to cross freely."
Fifteen days later, when his family crossed again and used his wife's ArriveCan account, the family received the same notifications.
McLellan said he consulted border officials and Public Health Canada in a bid to "cover his bases" and ensure his family didn't need to quarantine, which was confirmed. McLellan said he asked for a record in writing, but more than a month later, he said he hasn't heard back.
Advertisement 3
This advertisement has not been loaded yet, but your article continues below.
Article content
But he said the experience was concerning given the possibility of steep fines.
"The fines are astronomical and you're basically at their mercy once you're at the border," McLellan said. "I don't want to get flagged for any reason."
ArriveCan was introduced in April 2020 to ensure people entering the country at the height of the COVID-19 pandemic were following federal quarantine rules and its use was made mandatory later that year. Today, the app is used to verify vaccination status as well as collect trip information and public health information in a bid, officials said, to streamline border crossing during the pandemic.
But recently publicized glitches, including those similar to the ones McLellan's family experienced, have spurred calls for change.
Advertisement 4
This advertisement has not been loaded yet, but your article continues below.
Article content
"We've already seen in a border city when there is a breakdown with electronics in the border, the trucks line up for miles," said MP Brian Masse (NDP — Windsor West). "With this app we're only introducing another another variable.
"We're now branding ourselves as an unfriendly destination. We just need to get rid of it, now."
Masse said he believes vaccination status can be checked at the border instead of using the app, adding the app doesn't prevent someone from contracting COVID-19 after completing the app declaration.
"It just doesn't make any sense anymore, for public safety or a practical application," Masse said. "It's really hurting tourism and visitation among families."
Mark Weber, president of the Customs and Immigration Union, said his members find between 30 and 40 per cent of people at border crossings have not completed their ArriveCan information.
Advertisement 5
This advertisement has not been loaded yet, but your article continues below.
Article content
"The reality is that a lot of our officers' time is just taken up helping people complete the app because it is a requirement that we have to fulfil," Weber told the Star recently.
Windsor Mayor Drew Dilkens was unavailable for comment, but recently joined a coalition of border city mayors calling for the app to be discontinued at land border crossings citing its impact on residents and tourism.
MP Irek Kusmierczyk (Liberal —Windsor-Tecumseh) said he's raised resident concerns about the app and its impact on border cities with his party's ministers, including in a recent conversation with the Ministry of Public Safety team and with Transport Minister Omar Alghabra on a recent visit to Windsor.
"Folks that are seniors and others that don't have access, for example to that technology, or are unable to use it," Kusmierczyk said. "We know it presents an additional challenge for you."
Advertisement 6
This advertisement has not been loaded yet, but your article continues below.
Article content
Kusmierczyk said he believes it's important to remember the pandemic isn't over and the priority is public safety — but the app, and issues with its use, are being considered, he said.
"My sense is the concerns we've been sharing with the ministers, they understand this is presenting challenges," Kusmierczyk said. "They understand this is having an impact on border communities like ours."
The federal government indicated last month that COVID-19 border measures including the use of ArriveCan will remain in place until at least Sept. 30.
Kusmierczyk also said that for most residents, ArriveCan helps make the process of border crossing with public health restrictions in place easier by allowing people to fill out information ahead of time instead of answering questions at the border.
Advertisement 7
This advertisement has not been loaded yet, but your article continues below.
Article content
But glitches that mistakenly instruct people to quarantine are "absolutely unacceptable," he added.
"The ArriveCan app, that process, needs to be improved at the border because it does present significant challenges for border communities like ours."
A CBSA spokesperson said that as of July 20, there had been nearly 23 million successful ArriveCan submissions and according to CBSA figures, the app has about 1.3 million users each week. The agency said the app was used by 90 per cent of people at country borders last week.
"While ArriveCAN usage remains high, the Government of Canada recognizes that some Canadians may not be prepared or aware of the requirement to use the app," a statement said.



CBSA union president calling for review of ArriveCan app




Border mayors call on feds to eliminate ArriveCAN app




ArriveCAN app must go, says Windsor West MP Masse
To that end, border services officers are permitted to give one-time arrival Can exemptions to ease the process for people who might have been unaware of the app, the agency said.
"All travelers who are afforded this one-time exemption will be provided with information that explains their obligations regarding ArriveCAN for future crossings," an agency official said in a statement. The exemption has been used about 200,000 times since its introduction in May.
twitter.com/KathleenSaylors
Share this article on your social network
Comments
Postmedia is committed to maintaining a lively but civil forum for discussion and encouraging all readers to share their views on our articles. Comments may take up to an hour for moderation before appearing on the site. We ask you to keep your comments relevant and respectful. We have enabled email notifications—you will now receive an email if you receive a reply to your comment, there is an update to a comment thread you follow or if a user you follow comments. Visit our Community Guidelines for more information and details on how to adjust your email settings.