How to Plan a Royal-Themed Trip to Windsor
This weekend, Windsor will be filled to capacity with fans of the royal family, all trying to catch a glimpse of Meghan and Harry. But the borough is worth a visit, even if your wedding invitation got lost in the mail.
Here's your guide to Windsor:
Planning Your Trip
A quick 35-minute train ride from London, Windsor is perfect for a day trip, though there's certainly enough to see in this town on the River Thames to fill a weekend visit.
More From Town & Country
Where to Stay
Cliveden House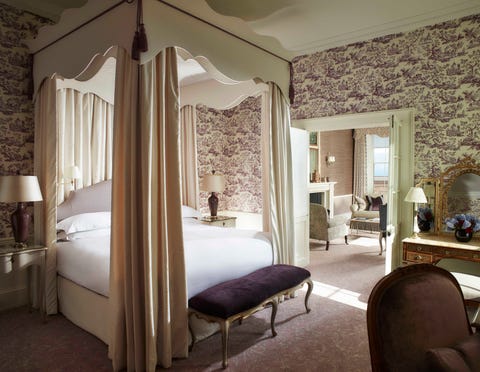 ​Cliveden House
While not strictly within the limits of Windsor, Cliveden House is only 20 minutes away from the castle, and the accommodations are worth the drive. Rich in both British and American history, the centuries-old Relais & Châteaux country house was at one point owned by the Astor family, and hosted Queen Victoria for tea during her reign on multiple occasions. Not to mention, Meghan Markle is spending her last night as a single woman at the hotel. She'll check in on the Friday before the royal wedding with her mom.
Related to Markle, Cliveden is also sometimes called the "most scandalous hotel in Great Britain," as the Profumo Affair began in the on-site pool, and the home was originally built for the 2nd Duke of Buckingham's mistress.
After you've had your fill of Windsor, return back to Cliveden to explore the 376 acres of National Trust gardens and grounds, or make a reservation for afternoon tea in the Great Hall.
What to See
Windsor Castle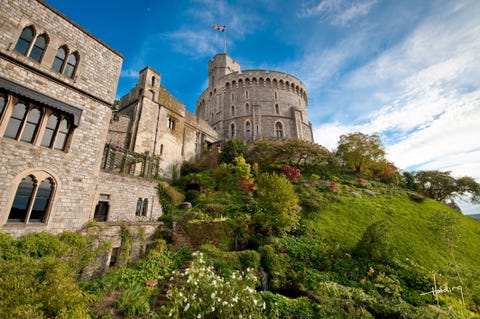 Windsor Castle
Doug Harding
Windsor Castle is the main attraction for many visitors to the borough. The Royal Collection Trust suggests guests spend at least 2 hours exploring not only St George's Chapel, where Prince Harry and Meghan Markle will tie the knot, but also the State Apartments, Queen Mary's Dolls' House, and the extensive on-site art collection .
If you're lucky, you might even see the Queen, who is known to spend weekends in the private apartments. But Her Majesty isn't the only member of the royal family who appreciates Windsor. Prince Harry selected the castle for his wedding venue because of his fond memories there.
"As with all members of the Royal Family, Windsor is a very special place for Prince Harry and he and Ms. Markle have regularly spent time there over the last year and a half," reads a statement from Kensington Palace about the upcoming royal nuptials .
"They are grateful to the Queen for granting permission for the use of the Chapel. The Chapel itself has centuries of royal tradition and hosted the weddings of many members of the Royal Family. Prince Harry and Ms. Markle are delighted that the beautiful grounds of Windsor Castle will be where they begin their lives together as a married couple."
General admission to the castle costs £21.20 for adults, and tickets are valid for a full year if you buy them directly. (If you can, go ahead and purchase your tickets ahead of time, online. It will let you skip some queues.) While on the grounds, history buffs should take advantage of the castle's free 30-minute Precints tour. Or, book an afternoon with a local professional Blue Badge guide for a tour of both the town and the royal residence.
But either way, be sure to plan your visit around Evensong, a service that takes place in St George's Chapel every night except Wednesdays. (Get the full schedule here.) Free to attend even if you haven't paid admission to the castle, Evensong offers visitors the chance to get up close to the altar where Prince Harry and Meghan Markle will be married. Attendees also get to sit in the chapel's quire, in one of the stalls of the stalls of the Knights and Ladies of the Order of the Garter, where the royal family will likely sit during the royal wedding ceremony.
The Long Walk
On their wedding day, Prince Harry and Meghan Markle will take a carriage ride down the Long Walk, but the tree-lined road in Windsor Great Park would make for a perfect afternoon stroll on your visit as well.
Take a Boat Ride
If it's a nice day, a boat ride on the Thames can be a great way to see the area. The French Brothers river boats set sail from Windsor Promenade, and offer views of the Castle, Eton College, Mill House, and the Windsor Racecourse over the course of a 40-minute round-trip.
Eton College
Located just across the Thames from Windsor, Eton College is an independent boarding school for boys, known for its impressive roster of alums, including not only Princes William and Harry, but also writers Henry Fielding, George Orwell, and Percy Shelly, actors Hugh Laurie , Tom Hiddleston, and Damian Lewis, and 19 Prime Ministers, among many others. During the summer, the school offers "heritage tours" of the grounds; year-round it has three museums, which are open to the public on Sunday afternoons.
Frogmore House
This content is imported from twitter. You may be able to find the same content in another format, or you may be able to find more information, at their web site.
As a way to say thank you, they have decided to share this candid photograph from the day of their portrait sitting directly with all of you. pic.twitter.com/MROyiKWenG
— The Prince and Princess of Wales (@KensingtonRoyal) December 21, 2017
Frogmore House, where Prince Harry and Meghan Markle will have their evening wedding reception and where they took the above engagement photo, is only open to the public a few days a year, but for a royal fan, it might just be worth planning a trip around The home, which was purchased by George III in 1792 for his wife Queen Charlotte, features a stunning garden, and has served as a retreat for the royal family for over 300 years.
In 2018, the house will be open from June 5 to 7 for charity days, where all proceeds will be donated, and in August, on Tuesdays, Wednesdays, Thursdays and Saturdays, groups of 15 or more people can pre-book admission.
For more information, visit the Royal Collection's website.
Where to Eat
The Duchess of Cambridge Pub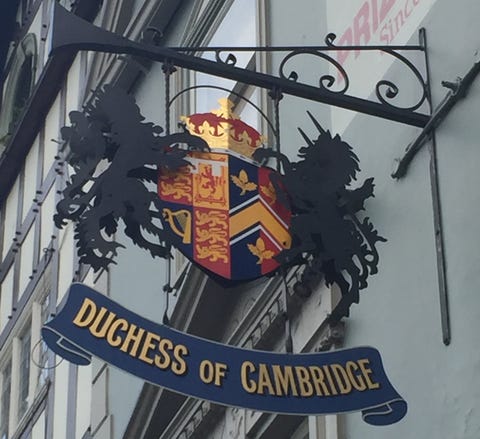 Caroline Halleman
Shortly after her wedding in 2011, the Duchess of Cambridge received an exceptionally British honour: she had a pub was named after her. Located just down the street from the Queen Victoria statue, the casual restaurant serves a menu of local favorites like fish and chips with minty mushy peas and sausage and mash alongside vegetarian options, a selection of small plates and sweets such as apple tarte tatin and tiramisu.
Royal Farm Shop
If you're looking for a place to grab an afternoon snack, consider stopping into the Royal Farm Shop. Located on the edge of Windsor Great Park in a grouping of converted Victorian potting sheds, the store sells artisanal foods from the royal farms as well as game from the royal estates, freshly baked bread, ice cream, and a selection of hampers and gifts. Next door, the coffee shop serves not only coffee and tea, but also house-made soup and sandwiches and freshly baked pastries.
For more information on Windsor, visit the Royal Borough's website, windsor.gov.uk.
As the digital director for Town & Country, Caroline Hallemann covers culture, entertainment, and a range of other subjects