Windsor food wastes to be banned from regular trash, starting in 2022
Breadcrumb Trail links
Local News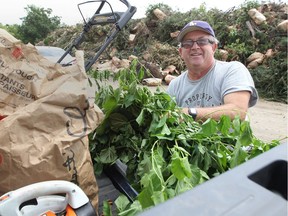 John Weber of Windsor unloads lawn clippings at Windsor's public drop-off depot off Central Avenue on July 30, 2018. Windsorites will soon be required to separate their food wastes from their regular garbage. Photo by Nick Brancaccio /Windsor Star
Article content
Scraping kitchen wastes — refuse everything from fruit and vegetable peelings to all the other food that turns stinky and slimy — into the regular trash will be forbidden in the City of Windsor starting in 2022.
Advertisement 2
This advertisement has not been loaded yet, but your article continues below.
Article content
"All the stuff that makes your garbage soupy, that's the stuff we're going to mandate to separate out," environmental services manager Anne-Marie Albidone said of the landfill ban on food and other organic wastes being imposed by Ontario's Ministry of the Environment and Climate Change.
While 2022 may seem like a long way off, it's actually a tight deadline for Windsor to get a new organic waste curbside collection and processing system up and running, said Albidone. Last week, city council's environment, transportation and public safety standing committee endorsed the hiring of a consultant, at a maximum cost of $85,000, to review all options. Council still has to finalize that hiring, which may cost a lot less if Windsor is approved for a grant through the Federation of Canadian Municipalities.
By clicking on the sign up button you consent to receive the above newsletter from Postmedia Network Inc. You may unsubscribe any time by clicking on the unsubscribe link at the bottom of our emails or any newsletter. Postmedia Network Inc | 365 Bloor Street East, Toronto, Ontario, M4W 3L4 | 416-383-2300
Thanks for signing up!
Article content
Advertisement 3
This advertisement has not been loaded yet, but your article continues below.
Article content
"Primarily, the research is to look at which method do we want to do for collection, and which method do we want to do for processing," Albidone said Monday.



Earth Day: Windsor-Essex needs to get off the plastics bandwagon




Payne quits solid waste authority board over 'differing tax philosophies'




Windsor family hits gold standard for recycling
Windsor and London are the last two large municipalities in the province that do not have organic waste collection. Albidone said Windsor has been late to the party (although it has long had yard waste collection) because it's costly and our regional landfill is large compared to landfills in the rest of the province. The province is pressing municipalities because keeping organic waste out of the landfill helps reduce greenhouse gas emissions caused by the creation of methane, she said.
Advertisement 4
This advertisement has not been loaded yet, but your article continues below.
Article content
"It's a good time for us to do the research, because it's using up the (landfill) space and it's creating methane."
Smaller municipalities in the county won't be required to have curbside collection.
There are basically two options when it comes to processing organic waste. Composting would involve a system similar to a backyard composter, but on a really large scale, with the risk of spillage and odors. The other, more costly, option would be building an anaerobic digester, a sealed system that uses insects to break down the waste and produce methane, which can be used as a source of energy, for example, to heat buildings.
Windsor currently has no such facility to process organic wastes.
"In terms of timelines, we have to look at not only what kind of facility we want, but then we have to build it," Albidone said.
Advertisement 5
This advertisement has not been loaded yet, but your article continues below.
Article content
She said no municipality collects organic waste less frequently than once a week because it would get juicy and smelly. But regular trash collection can be reduced to every other week because its volume is greatly reduced and it doesn't get putrid. "When you remove all organic matter, it can sit for two weeks," she said.
Some Ontario municipalities provide residents with a kitchen catcher to keep organic waste indoors. Once it's full, the waste is dumped into a special secure container similar to a Herby Curby that's put out on the curb on collection day.
Albidone said while the cost of collecting organic waste can be partly offset by reducing the collection of regular trash to every other week, "it will not completely offset it, so there will be an increase" in the overall cost of garbage collection.
The ministry is requiring that 70 per cent of organic waste be diverted from landfills by 2025.
The election of a Progressive Conservative government in Queen's Park could mean that these deadlines may change, but Albidone said it's unlikely that the mandate — to ban organic waste from landfills — will change. To make the 2022 and 2025 deadlines, the research must be completed this year, so that property can be bought, facilities can be built and the new system can be implemented, Albidone says in a city report.
twitter.com/winstarcross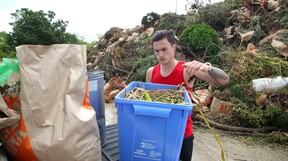 Andrew Lanoue, 21, assists his mother as they unload lawn clippings at Windsor's public drop-off depot on Monday. Windsorites will soon be required to separate their food wastes from their regular curbside garbage. Photo by Nick Brancaccio /Windsor Star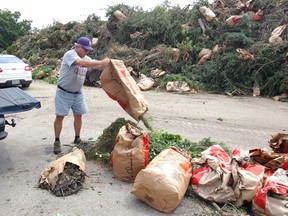 John Weber of Windsor unloads lawn clippings at Windsor's public drop-off depot off Central Avenue on Monday. Photo by Nick Brancaccio /Windsor Star
Share this article on your social network
Comments
Postmedia is committed to maintaining a lively but civil forum for discussion and encouraging all readers to share their views on our articles. Comments may take up to an hour for moderation before appearing on the site. We ask you to keep your comments relevant and respectful. We have enabled email notifications—you will now receive an email if you receive a reply to your comment, there is an update to a comment thread you follow or if a user you follow comments. Visit our Community Guidelines for more information and details on how to adjust your email settings.