Wright wanted to come to Windsor as much as Spitfires wanted to add talented centre
Breadcrumb Trail links
Windsor Spitfires
Sports
Local Sports
hockey
Author of the article:
Jim Parker • Windsor Star
Published Jan 10, 2023 • Last updated 4 hours ago • 4 minutes read
Join the conversation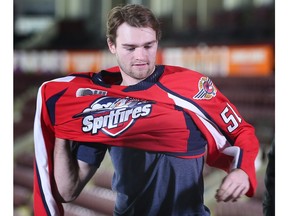 Newly acquired Windsor Spitfire Shane Wright puts on a team jersey at the WFCU Center on Tuesday. Photo by Dan Janisse /Windsor Star
Article content
The attraction between the Windsor Spitfires and Shane Wright was mutual.
Advertisement 2
This advertisement has not been loaded yet, but your article continues below.
Article content
Wright, who was captain of Canada's gold-medal winning world junior team and a former exceptional status player allowed to play in the early league, wanted to be a member of the Spitfires just as much as Windsor wanted him on the roster.
By clicking on the sign up button you consent to receive the above newsletter from Postmedia Network Inc. You may unsubscribe any time by clicking on the unsubscribe link at the bottom of our emails or any newsletter. Postmedia Network Inc | 365 Bloor Street East, Toronto, Ontario, M4W 3L4 | 416-383-2300
Thanks for signing up!
Article content
"I did have a no-trade clause, so at the end of the day, it was my decision," the 19-year-old Wright said Tuesday. "I wanted to make sure it was the right decision and the right fit.
"It was ups to the GM in Kingston (Kory Cooper) to get the right deal done, but I wanted to have a say."
A year ago, Wright watched Wyatt Johnston blossom into a star under Spitfires' head coach Marc Savard and general manager Bill Bowler as the club went to Game 7 of the OHL championship.
Despite Johnston making an early jump to the NHL this season, the Spitfires are once again in the hunt for the top spot in the Western Conference and that did not go unnoticed to Wright, who finished second to Johnston in voting for the league's Most Outstanding Player last season.
Advertisement 3
This advertisement has not been loaded yet, but your article continues below.
Article content
"I just think the development there and the team is one of the best, if not the best," Wright said. "Savard can develop NHL players and win games and championships and that's my goal."
The fourth overall pick in the 2022 NHL Draft by the Seattle Kraken, Wright spent eight games with the club and another five with the club's American Hockey League affiliate team before being loaned to Team Canada.
After helping Canada to the gold medal, Wright had his rights returned to Kingston, who took him first overall in the 2019 OHL Draft, and the trade rumors began to swirl.
"Once we were aware Shane was returning (to Kingston), we made the Kingston Frontenacs and his advisors aware that it's something the Windsor Spitfires would consider," Bowler said.
Advertisement 4
This advertisement has not been loaded yet, but your article continues below.
Article content
The same thing several other teams did with the London Knights, the Ottawa 67's, Peterborough Petes and Barrie Colts also rumored to be possible trade destinations.
But Windsor is where the six-foot, 192-pound Wright wanted to play and eventually Bowler was able to strike a deal for Wright along with a conditional 14th-round OHL Draft pick in the 2025 OHL Draft.
In return, the Spitfires sent forward Ethan Miedema, who was the fourth overall pick in the 2021 OHL Draft, to the Frontenacs along with 17-year-old defenseman prospect Gavin McCarthy, who was an eighth-round pick by Windsor in 2021 and is playing in the USHL with a commitment to Boston University in 2023.
Kingston also receives five unconditional OHL Draft picks and two other conditional picks. The Frontenacs receive Ottawa's second-round pick in 2023, Sault Ste. Marie's third-round pick in 2023, Niagara's fourth-round pick in 2024 and 2025 along with Niagara's sixth-round pick in 2025. As well, a conditional fifth-round pick in 2024 and a conditional sixth-round pick in 2025 were also included in the deal to Kingston.
Advertisement 5
This advertisement has not been loaded yet, but your article continues below.
Article content
"I just think it's not every day that a player like Shane comes along," Bowler said. "We like our hockey club and we like Shane Wright and the magnitude of a player like that. We believe the price was fair and warranted for a player of his character and ability."
Windsor already boasts the league's top-rated offense with the club averaging 4.47 goals per game this season while scoring six goals or more 11 times in 36 games this season. Along with last week's additions at forward of Brett Harrison, from Oshawa, and Aidan Castle, from Niagara, the acquisition of Wright will make the Spitfires an extremely challenging squad for any of the league's other 19 clubs to keep off the scoreboard.
"For us, and with any player we get, we think there's untapped potential," Bowler said. "By getting Shane, he's such a complete pro already. The fact he was captain of this country's junior team, he has tons of offensive instincts and we believe we can get more out of him just by allowing hime to play freely and prosper offensively."
Advertisement 6
This advertisement has not been loaded yet, but your article continues below.
Article content
Wright was eighth in league scoring last season with 32 goals and 94 points in 63 games and agrees with Bowler's sentiments.
"There are a lot of things I do well, but there are things I can get better at," said Wright, who will wear No. 51. "Offensively, there's a lot of stuff I can do better and Bill Bowler and Savard will help me do that."
Wright is the fifth player that Bowler has acquired in the last week to get in position to make a title run.Along with Wright, Harrison, Castle, the Spitfires added defenseman and former Sudbury captain Jacob Holmes and Niagara defenseman Rodwin Dionicio, who played for Switzerland's world junior team.
"Anytime you get the captain of the gold-medal winning, Team Canada junior team is a great day for the organization and the City of Windsor," Bowler said of Wright.
"We like our team, but there are other teams that have improved dramatically. Our players are sitting in first place in the West Division and, when all is said and done, we think we're a team that has a chance to compete for a championship."
Wright will make his debut on Thursday against the Saginaw Spirit at the WFCU Centre. Game time is 7:05 pm
twitter.com/winstarparker
Check out our sports section for the latest news and analysis. Care for a wager? Head to our sports betting section for news and odds.
Share this article on your social network
Comments
Postmedia is committed to maintaining a lively but civil forum for discussion and encouraging all readers to share their views on our articles. Comments may take up to an hour for moderation before appearing on the site. We ask you to keep your comments relevant and respectful. We have enabled email notifications—you will now receive an email if you receive a reply to your comment, there is an update to a comment thread you follow or if a user you follow comments. Visit our Community Guidelines for more information and details on how to adjust your email settings.